Coming over Col d'Aspin riders will reach the statue of Eugène Christophe who famously re-welded his broken fork in a forge in Sainte-Marie-de-Campan. This happened under the control of officials in the Tour de France 1913. At that time fully self-supported, and no outside help was allowed.
Sainte-Marie-de-Campan is the starting point of the Eugène Christophe parkour. The 17km climb with an average gradient of 7.37% will bring the riders to the CP6 at the top of Col du Tourmalet at an altitude of 2,115m.
The control point will be by The Giant of Tourmalet which symbolizes Octave Lapize, the first rider to cross the Col du Tourmalet in the Tour in 1910, the first Tour going over a high mountain pass. The parkour continues on the fast downhill followed by Col du Soulor and Col d'Aubisque, the finish of the parkour.
In 1913 the sixth stage of the Tour was done in opposite direction: Aubisque, Tourmalet, Aspin, and Peyresourde. The start of the 326km between Bayonne and Luchon was at 3 am in the morning. After his accident, Christophe had to make the downhill from Tourmalet by foot and lost a likely TdF win, but he finished the stage and the Tour. "I had bruised kidneys and painful legs confessed Eugène Christophe. But the physical pain was little compared to my pain, seeing all those I had let loose pass me by again."
CP6 Col du Tourmalet:
https://45southwest.com/checkpoints/#CP06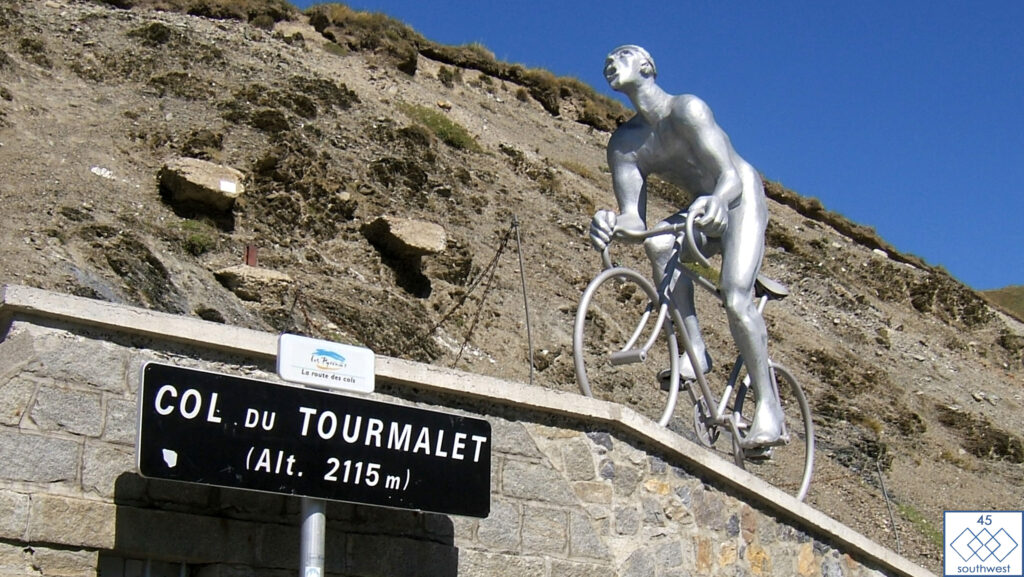 #45sw #45southwest #endurancecycling #bikepacking #bikepackinglife #ultracycling #adventurebybike #adventurecycling #ciclismo #cyclinglife #rower #bikelife #cycling #ultraendurancecycling #krakow #tarifa #montventoux #verdon #nice #coldetende #tourmalet #picodelveleta #rusjanbag #transbikeadventures